Today we speak with Matthew Sambucci, a senior electrical and computer engineering major from Mt Laurel, Burlington County, who rents a house off campus with friends. Matthew will share his #PROFspective with us on what it's like to be a Rowan University student and how he's getting the most out of his college experience as a Rowan Prof. 
Name: Matthew Sambucci

Major: Electrical and Computer Engineering in the Henry M. Rowan College of Engineering
Year: Senior
Transfer Student: Yes, from Rowan College at Burlington County (formerly Burlington County College)
Hometown and County: Mount Laurel, Burlington County
Off-Campus resident: Yes, I rent a house with 5 roommates
Social clubs: Tau Epsilon Phi fraternity
Do you have an off-campus job? If so, where/what do you do? I work at TGIFridays in my hometown
Why did you choose your major? I wanted to become an electrical engineer because I was good at math, found the topics fascinating and I want to eventually get into the green energy industry
One reason why you chose Rowan? Rowan seemed like the best fit for me since it was within my budget, had an electrical engineering major, had a nice campus, and I had heard great things from my cousins who are now alumni!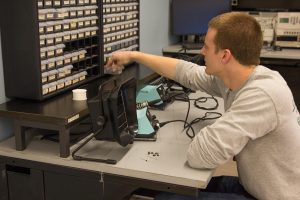 My Typical Day as a Rowan Student
My Mondays typically start at about 9 a.m. when I wake up and get ready for the day. I am usually out of the house in a relatively short amount of time and walk over to the new engineering building to go to class. Since I'm in my junior year of classes and I'm past having general education requirements, this building is where all of my classes are.
This semester I have been stopping at the Einstein Bagel in the new engineering building. I
stop to grab a cup of coffee since I know it's going to be a long day. If I am in a rush and don't eat at home I grab something to eat, too. My favorite is a blueberry bagel with honey almond cream cheese! After, I go to my Systems and Control class where we are learning about modeling electrical and mechanical systems. It is a very interesting class because it involves designing a system that produces a desired output based on the input signal.
After class I get a break and end up doing homework before my Modules class. It is essentially a statistics class for ECEs (electrical and computer engineers), which is beneficial since I've never taken a statistics class before. I usually get a collaboration room or a classroom since these tend to be a little quieter for doing my work. Directly after Modules I go to my Digital Signal Processing lab. We mostly have  been practicing our coding in a program called MATLAB which is a useful tool for mathematical simulation. It can perform operations on large amounts of data and is quite user friendly, which makes it much easier to code in and debug.
Once I am finally out of all of my classes for the day I go eat dinner, whether that be at home where I'll cook up some fish or at Prof''s Place in the Student Center where I'll grab a sub from Jersey Mike's. If I end up getting a sub my go-to is the turkey made Mike's Way with the hot pepper spread. At this point I normally do a bit more work, mostly because I tend to get a decent amount of it and want to stay a little ahead of the game.
I'll meet some of the brothers in my fraternity Tau Epsilon Phi and we take a couple of hours to hang out and get some schoolwork done. Afterwards I go to the Rec Center to work out for just about an hour before heading back to my house. Once I get home from the day I can finally relax and unwind before getting some rest before my 8 a.m. DSP (Digital Signal Processing) class the next morning.
We are #RowanPROUD and we are Rowan Profs! Not exactly sure what a Prof is? It's our owl mascot, Whoo RU. Read about him here. 
Story organized and photography by:
Jen Green, senior public relations major