Today, we speak with Erika Solis, a junior advertising major from Elizabeth (Union County), NJ, who rents an apartment off campus. Erika will share her #PROFspective with us on what it's like to be a Rowan University student and how she's getting the most out of her college experience as a Rowan Prof.
Name: Erika Solis
Major: Advertising

Minor: Journalism
Year: Junior
Transfer Student: Yes, I transferred from Union County College
Hometown and County: Elizabeth (Union County)
Commuter: Yes, from Blackwood
Off-Campus resident: Yes, in an apartment
Social clubs: Asian Cultural Association (Secretary), Commuters at Rowan (Social Media Coordinator)
Do you have an off-campus job? Yes, I work at Ikea as an active sales co-worker, with plans to move up to visual merchandiser once I graduate from Rowan.
Why did you choose your major? I was a Public Relations and Advertising double major at first, but when my PR classes started to get more serious, I realized it wasn't what I wanted to do at all. I was much more interested in my advertising classes and realized I needed to be more creative. I switched my major to advertising not long ago, and declared a minor in journalism to have the opportunity to take publishing-based classes.
One reason why you chose Rowan? One of my friends told me to come and visit while I was in the process of picking a school to transfer to. I came to an open house and fell in love with the communications program. Now that I'm taking the classes, every day feels like a challenge, and I love it.
My typical day as a Rowan student: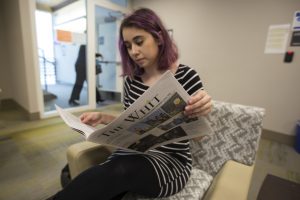 I don't have an average day, but every day brings something new. My first semester at Rowan has been filled with surprises and adjustments to new classrooms, professors, and students.
On Mondays and Wednesdays, I wake up at 7:00 am to start my breakfast and pack my lunch for a long day. My first class of the day is also my favorite class: Publication, Layout and Design at 9 am, followed Intro to Public Relations, Basic PR Writing, and PR/Ad Research. Between Intro to PR and Basic PR writing, I'll take some time to eat lunch and design something. Sometimes it's for fun, sometimes it's for a club's Instagram, or even for class.
On Tuesday, I go to the Commuters at Rowan club meeting (11 am in the Student Center Room 144!) and socialize with fellow commuters. After club, I have two advertising classes back to back. My classes are very hands-on, and we're always working in groups to learn new advertising strategies. On Thursday nights, I attend the Asian Cultural Association meeting, where I always learn something new. The members are very loyal to the club and love newcomers.
On Friday, Saturday, and Sunday, I drive across the Walt Whitman bridge to Pennsylvania to work at Ikea. I love interacting with customers and selling different furniture pieces during my 8-hour shift. Since starting in July, I've become familiar with most of Ikea's products, and found a passion in interior design. After work, I always find time to design and draw to de-stress.
Story organized and photography by:
Vanessa Vause, junior public relations major and advertising minor
Like what you see? Register for a tour or open house.

Related stories:
#PROFspective: Advertising & PR Major Nicole Baglivo
What I Wish I Knew: Students Share Their Experiences [Video]
Perfect Pitch: Agencies Share Success Stories