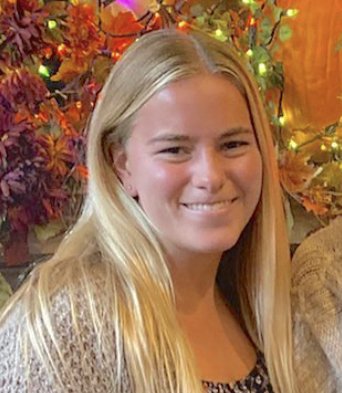 Recent grad Julia McAleavey shares guidance through this advice column for incoming students. A student with well-rounded experience, Julia earned a bachelor's in advertising this spring. She transferred to Rowan her sophomore year, after another school wasn't a great fit. While at Rowan she started as an exploratory studies major, unsure of what to major in. She's lived both on campus and off campus, held student worker jobs and internships, and participated in clubs and sports.
Ahhh, roommates. In the wise words of Forest Gump, they're like a box of chocolates: you never know what you're going to get. They are probably the first person you will ever live with that isn't a family member. Not to mention the fact that a lot of you have probably never shared a room before, and your freshman year living space is rather tight. Here are some tips on living with a roommate and how to handle certain situations.
Do not stress too much about choosing your first-year roommate.
Chances are, you will be placed in a Facebook group created by Rowan so you can meet your fellow future Profs. A lot of the time, people use this opportunity to choose a roommate. I did this, and my roommate and I were great friends. However, a lot of other students go into this thinking their roommate will be their best friend since they chose each other, and it ends up being the complete opposite. You can end up spending too much time together and not branching out, among other things, which will ultimately cause you to get annoyed with each other. At the end of the day, whether you choose them or not, they're still a stranger and you won't know what they're really like until you live with them. Going in random may sound skeptical, but that's how it was always done before technology! I've heard some great stories about random roommates, so I would keep that option in mind.
Respect each ether's space: Okay, this sounds a little challenging because you do not have much space to begin with. It's easy to feel claustrophobic and get in each other's way every so often. However, once you move all of your stuff in, divide the room evenly so that you each have your own areas for homework, sleeping, etc. One person leaving their stuff on the other person's side of the room can get frustrating after a while, so stick to your side. 
Borrowing items is okay, but always ask! There may be times that you and your roommate need to borrow things from each other. You might need to borrow a calculator for a test because yours broke, or your roommate might have run out of water bottles and needs to take one of yours to work. Even borrowing outfits for an interview or a party from each other is a common thing. Think about this though: if you were all of a sudden missing a calculator, or came home and saw your roommate in your shirt without any warning, how would you feel? Probably pretty frustrated. To avoid an argument, always ask permission to borrow items. Your future roommate will likely say yes 99% of the time. 
Respect each other's sleep and study schedules! This is probably the one that causes the most conflict between roommates. Picture this: It is after midnight, you have an eight A.M. class in the morning, and your roommate comes in with people. It could be just one friend, but it could also be multiple. Either way, it is disrespectful to you and your schedule. To avoid situations like this, go over each other's schedules before the semester begins. That way, your roommate can hang out in one of their friends' rooms or the student center (it's open till one A.M!) on those nights. This also goes for when you have to study for a big exam or have a project to finish and need your space. Ask them to hang out somewhere else, or go to the library, which is also open pretty late with tons of study space. 
Overall, living in a dorm with a complete stranger is an adjustment. If you've never shared a room before, this is the first time you do not truly have your own space. Your first year roommate doesn't have to be your best friend at Rowan, but following these suggestions will at least help you to get along in your living space. If you have issues that won't get better, or your roommate is doing things in your room that make you feel unsafe or uncomfortable, don't be afraid to talk to your resident assistant. They are there to help you work things out. Right now, try not to worry so much about it. Go into your new living space with an open mind and positive attitude. With that mindset, you and your new roommate will be off to a great start. 
Like what you see?
LEARN MORE