Today we speak with Carly Sanchez, a junior psychology major from Edison, Middlesex County, who lives on campus in the Rowan Blvd Apts (Robo). Carly will share her #PROFspective with us on what it's like to be a Rowan University student and how she's getting the most out of her college experience as a Rowan Prof. 
Name: Carly Sanchez

Major: Psychology within the College of Science & Mathematics
Minors: Double minor in Human Resource Management and Spanish
Year: Junior
Hometown and County: Edison, NJ (Middlesex County)
Resident: Yes, Rowan Boulevard Apartments (Robo)
Academic clubs: Vice president for Society for Human Resource Management, Oder of Omega Honor Society, Psi Chi Psychology Honor Society
Athletic clubs: Vice President for Women's Club Lacrosse Team, Secretary for Women's Physique Club
Social clubs: Special Events Coordinator for Inter Greek Council, Delta Phi Epsilon International Sorority – Alumnae coordinator and Ritualist
Do you work on campus? If so, where/what do you do? University Academic Advising Center – I help advisors and secretary change majors, answer questions regarding classes, and make appointments with advisors (among everything else!)
Why did you choose your major? I declared my Spanish minor because I have been speaking it since I was little kid and thought it would be interesting to learn even more about the language and culture. I decided on my psychology major because I wanted to work with others and in some way, any way, help people. I first chose psychology to learn about people and why they do the things that they do. I then added my human resource management minor because I found that I liked working with adults and building relationships. With human resources I am able to grow to become a resource to a company's most important asset: people.
One reason why you chose Rowan?
One reason I chose Rowan was because of the sense of a growing community that I felt when I first came. There have been so many changes since my first year here and I love how much things continue to expand. Rowan has been a well known university and will continue to be recognized for their many accomplishments.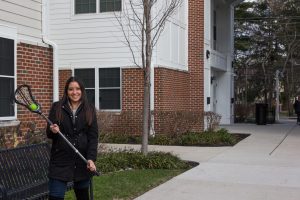 A day in my life!
On a typical Wednesday I wake up and go to the gym in the Rec Center to get my day started with energy. I usually stop by my job at the University Academic Advising Center (where I typically work on Thursdays) to prepare for anything I need to work on the next day. I try to fit in a stop there before my Inter Greek Council meeting that happens every week on Wednesdays.
Thankfully I have a break between my meeting and my next class so I usually go to the library to get homework done or I sit at a philanthropy/community service table for my sorority, Delta Phi Epsilon. We always have something going on! This month for recruitment week we had many tables and events, including cupcake decorating, and we participated in Girls' Night Out.
After I finish my work I then go to class. This semester I have two on Wednesdays, but am taking a total of 18 credits. I currently am taking five courses to have the typical 15 credits and my internship also counts for another 3 credits. I have a little break to go back to my apartment and cook dinner and make sure I have my work completed for my internship at the Human Resources Department at Rowan. I work there on Tuesdays and Fridays. Most Wednesdays I have a meeting in the evening for Society for Human Resource Management too and if I don't I sometimes will have meetings or events for Women's Physique Club.
During lacrosse season my days get even busier as I have practice on Wednesday nights as well as Monday nights. Our games are usually on Saturdays and Sundays, where we travel to different schools even some out of state! After lacrosse I usually complete my homework and studying or catch up with friends and attend social events for my sorority.
The rest of my free time I try to complete any activities or assignments I am responsible for. Most importantly I like to relax at the end of the day and get enough sleep (or at least try to!)
We are #RowanPROUD and we are Rowan Profs! Not exactly sure what a Prof is? It's our owl mascot, Whoo RU. Read about him here. 
Story organized and photography by:
Jen Green, senior public relations major