Welcome to Rowan at Home, our new series to give you a glimpse into Rowan University, our campus culture, and the lives of our students, while practicing social distancing to protect society from the spread of coronavirus. Today's story is from Sarah, a junior isolating from her home in Pennsylvania.  
Hi! My name is Sarah Niles.
I am a junior Leadership & Social Innovation major, with a concentration in Access, Success and Equity in Education Innovation, Dance minor, and Adventure Education Leadership Certificate of Undergraduate Study (CUGS).
My hometown was Haddonfield, NJ in Camden County, although I currently live in Havertown, PA in Delaware County.
I am working at my dad's coffee roasting company, House Cup Coffee Roasters, while on break. He roasts and sells coffee direct to customers in the town we live in (right outside of Philadelphia), and he also serves as a wholesale coffee distributor for restaurants.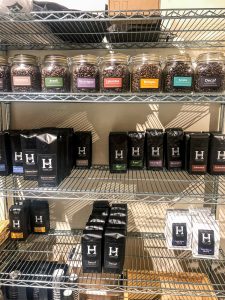 He recently just opened a cafe called House Cup Cafe, although it is currently closed due to the pandemic.
I've been bagging, grinding and delivering coffee and it's a lot of fun (plus it smells great!).
He has lots of different kinds of coffee. He sources beans from different countries all over the world wherever coffee is grown. 
"Somewhere" is the house blend, which is a secret mix of different beans, and is by far the most popular.
The kinds range from lightest to darkest roasts, like Ethiopia, Columbia, Brazil, Nicaragua, and Sumatra, which coincidentally, are named from where the beans of that roast are from.
Like what you see?
Story and photos by:
Sarah Niles, junior leadership & social innovation major