Today we speak to Health and Physical Education major Angela Lakatos, a new alumna from Pennsville, NJ (Salem County)! Angela is a transfer from Georgian Court University who lived off campus. Angela is a first-generation college graduate.
What was your favorite moment with a faculty member or a favorite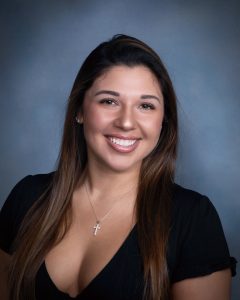 experience in one of your classes? There are so many favorite experiences I've had at Rowan. Some of my favorite memories and moments are from my Physical Education classes! My group of classmates are so competitive and every class was so much fun!
What was your favorite or most meaningful personal moment at Rowan? One of my most meaningful moments was when I was told that I was not only nominated but I was awarded the Cone Award Medallion for Teaching Students with Disabilities. This award means so much to me because I have learned so much from teaching the students with disabilities at my elementary student teaching location and my passion for Health and Physical Education grew even more because of those students.
What are your career aspirations and how did the people or programs at Rowan help to support you with those aspirations? I hope to become a Health and Physical Education teacher! Every professor has helped me get to where I am today, along with a few of my fellow classmates.
Do you want to give a thank you shout out to your family, friends, advisors or mentors? Shout out to Professor McCall and Professor Lieberman! These two awesome humans have taught me so much as a future educator. They are the best, and I know that all of my fellow classmates would agree with me on that!!! Also, of course shout out to my parents! If it wasn't for them, I don't know where I'd be or what I would be doing. They have always supported me and have been my back bone. I believe I have the best parents in the whole wide world (I might be biased)!!!
Like what you see? 

LEARN MORE
Story by:
Rachel Rumsby, freshman communication studies and public relations double major