Need some mask inspiration? Check out some of these masks from our very own Profs! They tell us why they chose their masks and what they like most about them.
"I figured if I had to wear a mask, then it should be one that compliments my style and personality. My mask is perfect because black matches with everything and it relays a message that I strongly believe in, Black Lives Matter! I like my mask because when I wear it I am a constant reminder to each individual I pass that Black Lives Matter today, tomorrow, and forever. My mask stresses the fact that the BLM movement is not a trend, it is an ongoing fight!" — Nhadja Crawford-Bell, Senior, Psychology major, on-campus resident and first-generation college student from Willingboro, NJ
"My sister bought them and the proceeds went to help hosptials and healthcare workers. It also matches well with my clothes!" — Brian Kreimer, Sophomore, Political Science major, on-campus resident from Lincroft, NJ
"I got it for free for supporting my favorite web series. It's expressive and well made. I feel a lot more comfortable wearing this mask than a disposable one; it's better for the environment and helps me protect others. I love the design and the fit. It was made by Rooster Teeth so wearing it lets me show my support for my favorite content creators." — Jill Taylor, Junior, Biology major, transfer from Stockton University and first-generation college student from Cumberland County
"I chose this mask because I wanted a mask that was affordable but also stylish. It's got a floral pattern on it and because I mainly wear basic colors, usually black, the mask is like a pop of color and pattern. It goes really well with everything I like to wear!" — Bianca Torres, Senior, Music Industry major, from Long Valley, NJ (Morris County)
"This mask is better than other brands. I found it in Walmart for a decent price. It's very fitting, does not suffocate and its re-washable." — Max Husar, Junior, Civil Engineering major and on-campus resident from Middletown, NJ
"My mom runs a health store in Berlin, NJ. She gets shipments with masks in a variety of patterns! I like this mask because it fits nicely to my face, and I love the flower pattern!" — Autumn Cruz, Senior, Psychology major, commuter from Cherry Hill, NJ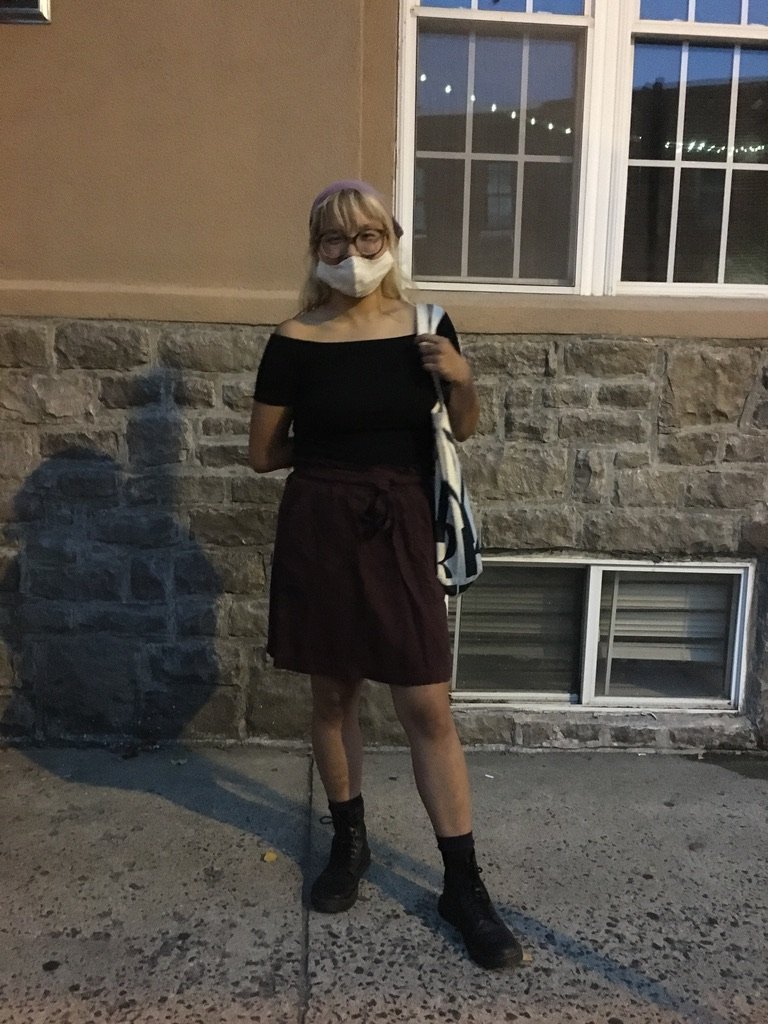 "My friend Em knows how to sew and has been making a lot of masks and mailed one to me! This mask is very easy to breathe in and the style goes with any colored clothing. It's also very easy to hand wash!" — Molly Miraglia, Senior, Bioinformatics major, transfer from Camden County College and commuter from Cherry Hill, NJ
"I chose this mask because it's my least boring mask and it was fun to make! I was able to customize it myself." — Olivia Mason, Junior, Mechanical Engineering major, on-campus resident from Pedricktown, NJ
"I chose this mask because it was given to me by a friend of my mom. It's soft, it filters, and it forms to my nose." — Gina Sannino, Sophomore, Writing Arts major, on-campus resident from Matawan, NJ
"I chose this mask because I have a thing for custom artwork from small businesses, especially Black-owned businesses. I love the color purple too but I am also into having a bit of a punk vibe, this is why it has spikes on the side." — Cellina Rodriguez, Junior, Psychology major, transfer student from Atlantic Cape Community College and commuter from Ocean City, NJ
Like what you see?
Story by:
Bianca Torres, senior music industry major
Header photo:
Mechanical engineering major Brittney Nickel and her family have sewn dozens of masks, including the patterns seen here. Read more about how she got started.