Today, we speak to Kait Fox, a Biology major with a minor in Psychology from Williamstown, NJ (Gloucester County). Kait, who transferred from Rowan College of South Jersey (RCSJ), commutes to campus. She tells us more about why she chose Rowan and what a typical day at Rowan looks like for her.
Why did you choose your major?
I chose to be a Biology major because I was already on track with the course load previously completed from RCSJ. I am interested in the medical field and thought that a degree in biology would cover all of the bases for graduate school.
Why did you choose Rowan?
I chose Rowan because it is close to home so I am able to make the commute to and from school, not having to worry about dorms or missing my family.
Another important factor is how affordable Rowan is, and that all of my credits from RCSJ are transferable to Rowan, so I transferred in as a third-year student.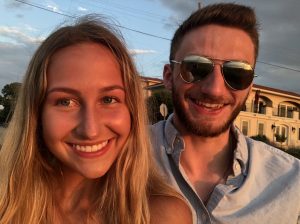 Take us through a typical Rowan day for you.
A typical day for me usually starts mid morning (I try my best to avoid the 8 a.m. classes). I arrive at Rowan around 10:30 for my 11 a.m. classes. I like to be a little early instead of late, so I'll relax in the lobby of whichever building my class is in. I have about three classes a day and usually one lab.
When I make my schedule I try to make my classes back to back, or at least have a minimum 1-hour gap between so I'm not waiting around all day for my classes. If I do have a gap, I'll meet up with a few friends and sit with them and chit chat, check my email, update schedules, work on assignments, maybe snack a little and "rest my eyes."
After my classes are complete for the day, I'll eat lunch wherever I'm at for classes and then I leave Rowan for my internship at the health department.
Like what you see?
Story by:
Bianca Torres, senior music industry major
Photos contributed by:
Kait Fox