Today we feature Camryn Hadley, a leader at Rowan University. Camryn is involved with many activities on campus like SUP (Student University Programmers), Student Government Association, PRaction, Residence Life and more. Camryn is a senior from Somerset, NJ (Somerset County) who double majors in Public Relations and Advertising with minors in Journalism and New Media with a Certificate of Undergraduate Study for PR in the News.
This story is part of a series spotlighting campus leaders during Women's History Month.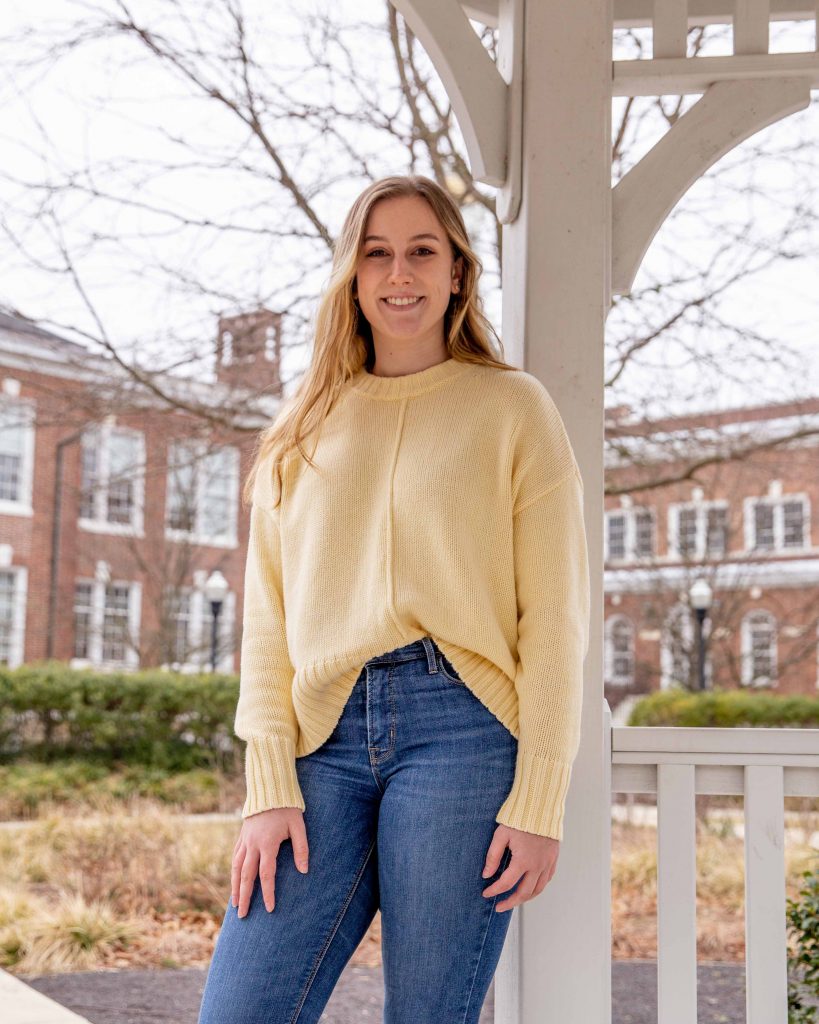 What are your roles on campus?
SUP Vice President: In this role I help oversee the executive board and event planning. I also coordinate our co-sponsorship program.
SGA AVP of PR and Special Events: In this role I serve on university committees, do PR for SGA, head my own committee and plan Back to the Boro.
PRaction President: In this role I attain clients and students. I also update our social media and website and serve as a TA for PR Practicum. I also have been doing the fundraising for PRSSA and PRaction this year.
Resident Assistant in 230 Victoria: In this role I ensure the safety of my residents and the residents in the building. I do conflict resolution and program creative events.
I also worked in orientation as a PROS member for three years, have been working on Rowan's Social Media Team for four years and a member of Leadership Rowan where I mentored two students and received my bronze, silver and gold certificates in Leadership. I am also a Basic PR Writing tutor. My freshman year I worked in the REC as an Intramural referee and supervisor.
What have you learned in your role as a leader?
I learned to put the team's goal ahead of my own. Leadership is about helping others and accomplishing something. When you are worried about yourself, the goal isn't achieved and you haven't helped anyone grow.
What's your favorite memory as a leader or at Rowan in general?
My favorite memory as a leader on campus has to be seeing my orientation students grow and thrive. I love getting stopped on my way to class and getting caught up. I watch their social media like a proud mother and it makes me so happy to have been a part of their journey. Also, hanging out and working with my friends on campus with no classes is a bonus.
Who inspires you and why?
My mom and three older sisters inspire me with their drive, heart and leadership. We've been die-hard Girl Scouts since we were born with our mom as our Troop Leader. They've taught me how to lead, when to let others lead and to put the team first. My mom was pregnant with one sister and going through a divorce and was still at the Girl Scout camporee. My mom and sisters taught me you can't stop a woman on a mission.
What's the most significant barrier to women today?
I think the most significant barrier for women today is being heard and understood. We know women can achieve great things and are more than strong enough to lead. However, when no one will listen or understand, it makes it impossible for those women to achieve the goal.
What advice would you give to the next generation of leaders?
My advice for our next generation of leaders is to be selfless, do what you love and don't care what others might think or say. It's your life to life to live, and you can choose your own legacy.
Final thoughts?
Rowan gives so many opportunities for students to thrive in leadership. It's up to our students to take them and run with it and make it better than it ever was.
Like what you see?
Story by:
Marian Suganob, senior public relations and advertising double major
Photos by:
Stephanie Batista, sophomore music industry major