Today we feature Sasmita Prabu, a junior Finance major who is also minoring in Management Information Systems. Sasmita works for the Office of Volunteerism as a Blood Services Coordinator and is also the secretary of the Diversity, Inclusion and Belonging in Business Club. She discusses her major and goes into detail about her involvement in several clubs around campus.
Why did you choose Rowan to study finance?
I chose Rowan because it quickly became my happy medium. It was a school that not only met my expectations in regards to academic opportunity, it also fit my desired needs for professor-to-student ratio. When deciding on a university to further my education, it was important to me to be able to learn in an environment where my professors could dedicate more time to engage with their students.
I also believe that it is important to be located near a major city. The location of Rowan is a short drive to Philadelphia, where I have endless opportunities for internships and future jobs.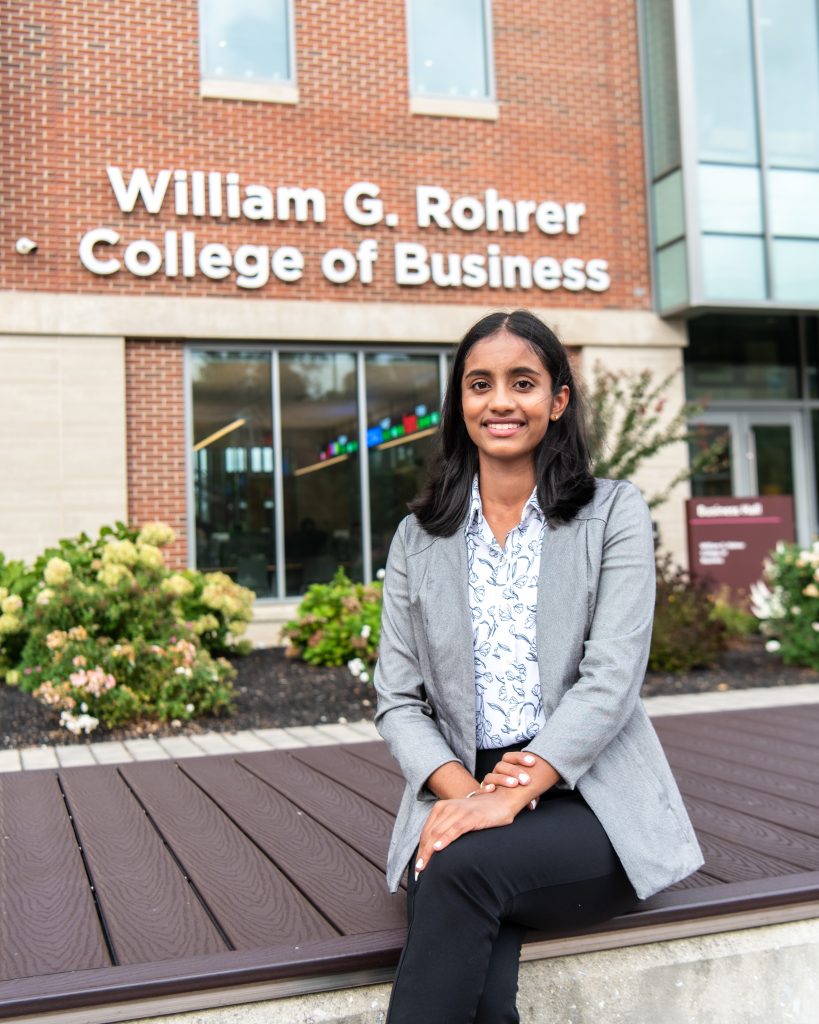 Why did you choose to study finance?
I wanted to study a major that utilizes my analytical and communication skills.
What are your future plans and what is your dream job for working as a finance major?
Currently, I am exploring my options for the future through hands-on internship experiences. Last summer I interned for AT&T's Billing Operations department.
This summer I am seeking an internship opportunity that will allow me to expand on my skill sets further and utilize them in my future endeavors.
What does your role as Undergraduate Coordinator of Blood Services for the Office of Volunteerism entail? How did you get involved with this?
My role as Undergraduate Coordinator of Blood Services includes working closely with colleagues of the Office of Volunteerism team to help organize bi-monthly on-campus blood drives with the support of the American Red Cross.
My freshman year I attended a series of volunteering events where I heard about this opportunity. However, my initial interest in volunteering and working with blood drives started in high school. While in high school, I was the president of my Red Cross club where I also helped facilitate blood drives. These opportunities have been a great way to give back to the community and build leadership skills while doing so.
What does the day of a blood drive look like?
There is so much preparation involved before the day of a blood drive. The work realistically begins many weeks prior with advertising the drive, contacting donors, and recruiting student volunteers. We have immense support from student organizations, clubs and faculty that make our bi-monthly blood drives not only possible but successful. I am organizing these blood drives, but I do have an entire family of colleagues and student organizations supporting and assisting me.
Can you tell us more about the Diversity, Inclusion and Belonging in Business Club? What are your responsibilities as secretary of this club? How did you get involved with this?
This is a newly founded student organization embracing diversity and promoting inclusion and belonging in the workplace. This club provides a sense of community and inclusive professional development resources to all majors. It is important to note that DIBB is not focused on just business majors.
My responsibilities as secretary of this club includes communicating with our members and maintaining club records. I also assist our club Community Outreach Chair in event planning by scheduling guest speakers. Additionally, I look forward to taking on more responsibilities this semester as I was recently promoted to club Vice President.
What is your advice for other women as finance majors that are simply trying to compete in a field that is male dominant?
I think it is important to have confidence in yourself and your questions. There will be times where you may be unsure of yourself, and asking questions and seeking help will only aid you.
Like what you see?
Story by: 
Natalie DePersia, junior public relations major
Photos by:
Stephanie Batista, junior music industry major