Meet senior Brandon Hickson of Washington Township, NJ (Gloucester County), a Biomedical Engineering major and member of the Honors College. A last-minute change of plans brought Brandon to Rowan University's College of Engineering. Later, a cancelled research experience sparked a new passion and career path for Brandon in the medical field. Read on to learn more about Brandon's story and future plans. 
What made you choose biomedical engineering?
Growing up, I was fascinated with LEGOs and building things and constructing something out of nothing. And as I got older and got into middle school in high school, I realized that I had a passion for people as well. And I knew that I couldn't live and do something for the rest of my life without incorporating both of those things into my life.
And I found out that biomedical engineering was really the thing that was perfect for me, because it combined the human component of biology and interacting with patients and people. But then also the mathematical and technical side of engineering meant a lot to me. And I feel like I found my perfect fit here at Rowan.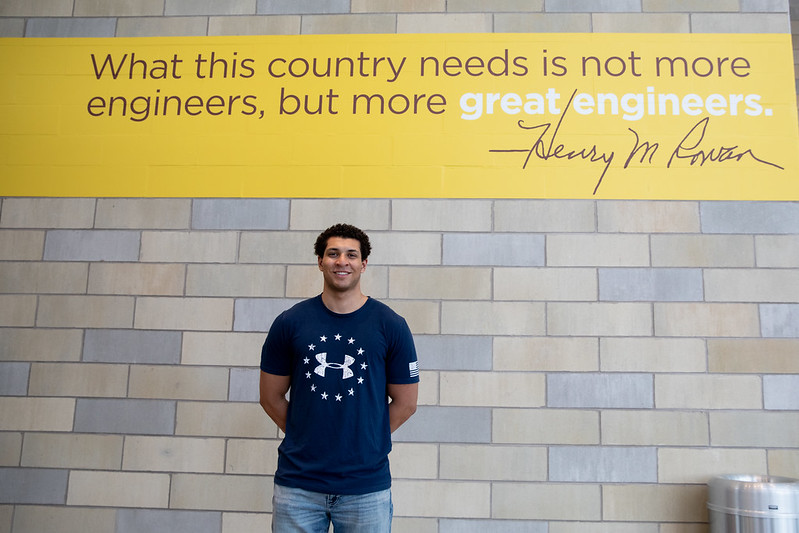 What impact do you hope to have in your field?
No matter how big or small it is, on every single level, I hope to impact the patient directly. Patient interaction is huge with me. I have had a family history of medical issues where over the years, we've had several different doctors and engineers who have had profound impacts on our lives. And I think that is something that goes very much unsaid that the people who work behind the scenes have a profound impact on the way that people live their lives and the success that they encounter. And I would love to be a part of that success in different people's lives.
Share an "aha" moment that you've had within your discipline that made you feel passionate about your major.
My "aha" moment, believe it or not, happened when COVID was at its peak. I had a cancelled Biomedical Engineering research program at the University of Delaware. And through that cancellation, I ended up working at a doctor's office in the area. Through that experience, I realized that medicine is actually my true calling.
The work that I have done in biomedical engineering has allowed me to have an appreciation for the overall holistic view of health in the human body, and to one day integrate that into a practice that I will hopefully have on my own. So as of now I've wanted to shift over to pre-med studies in addition to biomedical engineering, and I can't wait to see what that's going to bring.
Can you give one piece of advice for any student who is looking into this major and aren't sure if it's right for them?
I would say learn from me, and don't come in with a very closed-minded approach. I graduated high school and thought that I knew what I wanted to do for the rest of my life and had the next 10 to 15 years planned and ready to be executed. And I had a giant curveball thrown my way. And I feel more at peace now with my professional career than I ever have. So definitely have an open mind when it comes to deciding what you want to do with your future and how you live your life because you're only going to have one college experience. And you'll hear this a million times, but live it how you would want to live it. Don't let other people dictate what it is that you're going to do with your life.
Why did you choose to come to Rowan?
I chose to come to Rowan because of the size of it. Believe it or not, I originally planned on going to the University of Maryland, and at the last minute decided to come here because of the streamlined approach that the engineering program takes with its students.
The class sizes are extremely small, so much so that the faculty can have a one on one relationship with multiple if not all of their students. And that is not really the case at any other university, especially any other university that has a program as prestigious as this one. Any other university, you would be simply a number on a page, or a name in a book. But here you're a person who has wants and needs and desires for their future, and the faculty here make sure that that happens. 
The engineering program starts day one [your first] year and is meant to cultivate you to what you would eventually want to do for the rest of your life as you graduate. And you have faculty that are always pushing you along the way for excellence to make sure that you attain all that you seek out to achieve in life.
See our video with Brandon here.  
Like what you see?
Related posts:
Beyond the Classroom: Biomedical Engineering Major Ashleigh Jankowski Interns for Biotech Startup
Reaching New Heights: AJ Pingol Shares His Experience as a Biomedical Engineer
Student Leader Lauren Repmann on Biomedical Engineering Major, 3D Printing Club Success