Today we speak to Rowan siblings Sarah and Madeline McClure. Sarah McClure, the Executive Vice President of the Student Government Association (SGA), is a senior International Studies and Political Science double major. Madeline McClure, the Assistant Vice President of Public Relations of the Student Government Association, is a junior Marketing major. They are from Rockaway, NJ (Morris County), and they live together in an on-campus apartment. Sarah and Madeline tell us about their positions in SGA and their experiences as being sisters at Rowan and in SGA together.
Can you tell me a bit about your positions in SGA?
Sarah: I am the Executive Vice President of SGA. I am in charge of club development. That means I oversee all the about 170 clubs on campus, as well as field new clubs.
Madeline: I am the Assistant Vice President of Public Relations. I run all of SGA's social media. I focus on Instagram the most. I make any promotional materials, and I write press releases. In the spring, I will run Back to the Boro, which is a community service event where we give back to the residents of Glassboro. My job is to make sure that people view SGA in a positive way. 
Why did both of you choose to go to Rowan?
Sarah: All of our cousins are much older. The youngest is about seven years older than me. When I was touring schools, one of them told me not to look at Rowan because it was just a bunch of buildings in the middle of nowhere. When she looked at Rowan, many of the buildings that are here now weren't. But, I came, and I toured anyway because one of our mom's coworkers works in admissions and she recommended I tour. So, we toured, we spoke to someone in admissions, and I just had a great feeling about Rowan. I went to an accepted student's day, and I heard Richard Jones speak, who was the Dean of Students at the time. He spoke about the community here and how all the professors really care about their students, and that resonated with me in a way that no other college had. 
Madeline: I had never heard of Rowan until Sarah began her college search. When we toured for Sarah, I immediately loved the campus and was interested in Rowan. However, when Sarah applied, I didn't want to come here anymore because I didn't want to go to college with my sister. But, I ended up here anyway. Now, we live in an apartment together, and we're on SGA together. 
Another big part of us both choosing Rowan was the financial aspect. We both wanted to make a good financial choice with our education. We both wanted in-state tuition, and there is a scholarship you can apply for if you have a family member that also goes here.
What's it like being on SGA together?
Madeline: Sarah is actually the reason I ran for this position in SGA. My whole idea of SGA, before I started, revolved around Sarah's involvement in SGA. It's amazing to be a part of SGA and be in this position. But, working with Sarah, she's just another member of the board. Well, she's so important, and I think she's a genius, but it doesn't feel like I'm working with my sister. I'm glad I get to experience this with her. 
But being on SGA is really fun, but it's a lot of work. It's a lot more work than I initially expected. It's very rewarding when you finish the work, especially because I didn't think I could handle all of it.
Sarah: Like Madeline said, it's less like working with my sister, and more like a team member relationship with the added background of knowing each other for 20 years. Since I was involved in SGA last year too, sometimes people come up to me and ask me if Madeline is my sister. I was worried in the beginning that Madeline might feel out of place, but she proved to me quickly that I didn't need to feel that way. She fit right in. She's doing a great job. I'm proud of her.
How has going to college with your sister affected your college experience?
Madeline: When I first started at Rowan, I wasn't looking for a super involved college experience. I was expecting to get the degree, and that's all. But, being here with Sarah has pushed me to be more involved, be a better student, and achieve so much more than I thought I would. Sarah is so smart and takes so much on her plate. I never would have joined something like SGA if I weren't here with Sarah. It would have gone so differently if we had gone to different schools.
Sarah: To add to that, it's just nice to have someone who knows me on campus. I try my best, but in doing so much on campus, it can be hard to maintain a steady social life. To be able to go back to the apartment and have my sister there to crack jokes and hang out with is special. It makes it feel more like home in the apartment.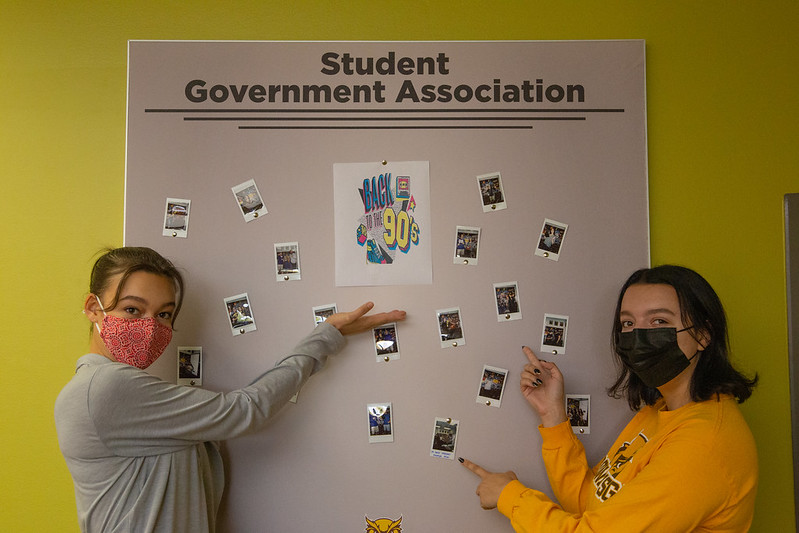 Do you have any advice for incoming students who are hesitant about going to college with their sibling?
Madeline: I was definitely hesitant at first. As kids and teenagers, we had a lot of arguments. I was worried about that continuing if we went to college together, but in a short period of time you mature and you realize you aren't so different and you have the same goals. Even if we get into little arguments in the apartment, we forget about it the next day. 
Also, there's no rule that you have to live together like Sarah and I. For the first two years I was here, Sarah and I barely saw each other. The campus can be so big. You do not have to be intertwined at all. Being at college with your sibling doesn't have to define your experience.
Sarah: To go off of that, Madeline and I are in two different majors and two different years. I maybe saw Madeline walking down the street once or twice and waved, but that's all. It's like going to the same college as someone random in your high school. You aren't going to see them all the time, especially if you are taking different classes and are involved in different things. I used to get so excited to see her and walk past her, since we didn't see each other that much. While you're looking for independence, it's nice to have someone to come to or fall back on, and it's someone who has known you your entire life. I can be goofy with her like nobody else. I never expected to have this good of an experience with my sister. We were different as kids and teens, but now we are adults and we are much closer.
For anyone who is contemplating going to the same school as their sibling, give it a chance. Think about how you feel about the campus, if you like the program, and if you feel the school is a good fit for you. Don't let the fact that you may already have a sibling going to that school influence your decision. Chances are, your sibling probably won't play much of a factor in your experience while you are there. 
Like what you see?
Story by:
Rachel Rumsby, junior communication studies and public relations double major
Photos by:
Missy Pavorsky, junior advertising major