Today we talk to first-year student and on-campus resident Sincere Silvera. Sincere is a Radio/Television/Film (RTF) major from East Orange, NJ (Essex County). Sincere is a first-generation and EOF student. 
What do you like about living on campus?
Well, I live in a single room. It's pretty good, you know, I can just do whatever I want in my room. I don't have to ask permission for nothing, nothing like that. I don't have to ask somebody, "Can I have a person over?" I can have somebody over whenever I want.
How are you enjoying your classes so far? Are you taking RTF classes or just general education classes?
I am [taking RTF classes]. One is Foundations and Media and that one you explore the technological side of it, like this is what a camera angle is, this is what a shot is, this is what a frame is, this is the science behind audio waves and you know, frequencies and stuff. And then I have [Applied Media Aesthetics: Sight, Sound And Story] and you know, all that good jazz. So it's like, how do these things create emotion? How does this camera angle make you feel and things of that nature? So I'm loving that and then all the rest of the classes, they cute, you know, I'm just trying to get through. 
What about what expectations did you have for Rowan before you got here?
Well, that's a good question. I expected it to be a social environment where I could meet new people and have lots of different conversations, conversations I probably never would have thought I would ever have. I expected to make connections and learn some things as it relates to what I want to do moving forward with my life.
Have you been able to be social and meet new people? 
I definitely have. There are many opportunities, especially on ProfLink, where you find out the different events going on like karaoke — so you know Imma show up to the karaoke, I'm gonna show out. Cooking classes, movie nights, different little interesting things. 
What was your favorite event that you've been to so far?
I'm gonna say karaoke [Prof's Spotlight] because I really enjoyed myself. I had a really good time at karaoke. I could express myself on a stage and show my little performance side a little bit. That was good. I'm not just in the audience. I'm gonna be on the stage with a microphone over my mouth going off. I last did Nicki Minaj's "The Night is Still Young." It was an amazing experience. 
Was there an experience or a moment at Rowan that made you feel like this is home?
I actually want to say no, but in a good way. Because at home … there's not as many fun things and events or opportunities to do things like that. And here there is. So I'd like to say that this is very different from home, and I'm having a lot more fun here.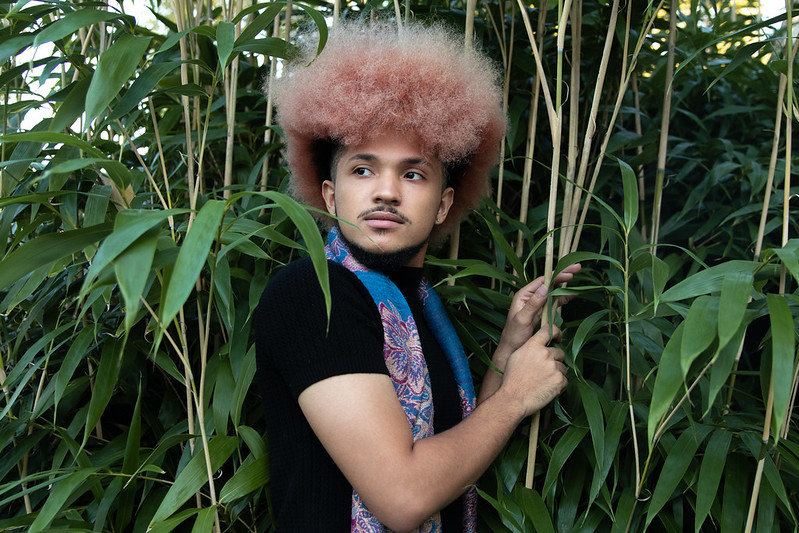 Were you nervous to start at Rowan?
Yes. I could say there were nerves in certain areas. I wasn't nervous, like, in the sense of, "Oh, I'm like, so scared to like, you know, go out there. I'm not going to do nothing." That wasn't me. I was like, "Ok, I'm excited." I turned any nerves into excitement if there were any nerves. So I was more excited than anything else. But if I was nervous about anything, I probably was a little nervous about whether I chose the right major for what I want to do with my future, because that's like, what's most important to me?
Final thoughts?
Even though I feel like it might be easy as a freshman, or a first-generation student or whatever, just going into college and experiencing that whole like situation with so many people, the events, the organizations, the clubs and everything might throw a person off. I think that at the end of the day, even though you do want to experience and you do want to have fun, and I'm all about it, at the same time, I think it's important to manage that. Yes, I can be a very social person. I can have friends and things of that nature. But I cannot let that take over my life. I cannot be thinking about that 24/7. I have to also keep in mind my passion, what I want to do, the type of education that I want, as an individual. So sometimes, you know, not everybody's gonna like you so you don't want to think about, "Oh, what friends am I gonna make? How am I gonna make them?" every day. Sometimes it's like, "ok, maybe I don't need any friends." Maybe I'm gonna just go to this event and sit down because I want to be there, or maybe I'm going to get up on the stage not because I want to impress people, but because I want to get on stage and express myself and have a good time. I feel like that if there's anything that I want to say about being a first-year student, it'd be that.
Like what you see?
Edited by:
Rachel Rumsby, junior communication studies and public relations double major
Interview and photos by:
Stephanie Batista, junior music industry major