Here you have it, our top 10 most read articles published this calendar year. If you haven't read them yet, here is another chance to meet just a few of the Rowan University students, faculty and alumni we have featured in 2022.
1. Beyond the Classroom: Entrepreneurship Major, Owner of Showtime Sneaker Boutiques, Christian Giannola
Christian, who has since graduated from Rowan University's Entrepreneurship program, walked us through how he applied his business skills to own two successful boutique sneaker businesses while attending school full-time.
---
2. From TikTok Dreams to Reality: A Summer to Remember in Lake Powell, Arizona
Sofia DiCastelnuovo, who recently graduated with a Biological Sciences degree, penned this first-person perspective on how she went from scrolling on TikTok in New Jersey to spending a full summer in Lake Powell, Arizona.
---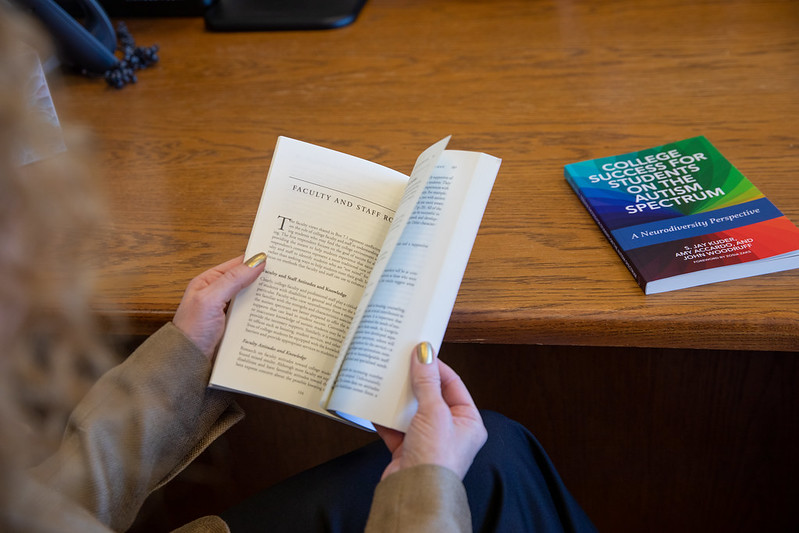 3. Removing Deficit from Disability: Rowan Minds Reframe College Success for Autistic Students in New Book
Three Rowan researchers discussed how colleges and universities can better serve autistic students and talked about how their recently-published book addresses a growing movement in the autism community.
---
4. Prof Pairs, Love is in the Air: The Story of Scott and Kevin
This story features Music Education and Education: Subject Matter Specialization alumni Scott Garvin '17 (he/him) and Kevin Gehringer '19 (he/him), whose relationship began and grew during their time at Rowan.
---
5. Senior Student Leader Lauren Repmann on Biomedical Engineering and 3D Printing Club Success
We spoke with Biomedical Engineering major Lauren Repmann, now a Rowan University alumna, on her major, her activities and her work as founder of Rowan's 3D Printing Club.
---
6. DEI Spring 2022 Book Study Recommendations
Dr. Monika Williams Shealey (she/her/hers), Professor of Special Education and Senior Vice President of the Division of Diversity, Equity and Inclusion, compiled this comprehensive guide of essential reads to take part in DEI's spring book study initiative.
---
7. Reaching New Heights: AJ Pingol Shares His Experience as a Biomedical Engineer
AJ Pingol, a recent College of Engineering graduate, shared what it's like to be a Biomedical Engineering major at Rowan University.
---
8. A Champion and Voice for Graduate Students: Amit Dhundi, President of the Graduate Student Government Association
This story featured Rowan Global Ph.D. in Engineering student Amit Dhundi, who shared his continuous work and contributions to the University as a graduate student and president of the Graduate Student Government Association.
---
9. ICYMI: Rowan University Dance Team Ranked Fifth in Nation
At the start of the year, the Rowan University Dance Team competed at the Universal Dance Association (UDA) Nationals in Florida, where the team placed fifth in the Open Division Hip Hop category. Here, 13 members of the Dance Team reflect on their time at the competition and talk about their dynamic as a team.
---
10. Randy Bushman: A Rowan Global Student Starting a Career in Computer Science
Randy, a Rowan alumnus who graduated with a degree in Computer Science, decided his alma mater would be a great fit to pursue his master's degree. This story details how Randy's education and internships prepared him for his next chapter.
Like what you see?
Photos by:
Rowan Blog Digital Content Contributors
Select photos courtesy of:
Christian Giannola
Sofia DiCastelnuovo
Scott Garvin and Kevin Gehringer
Pexels
Pixabay