The Educational Opportunity Fund (EOF) Program here at Rowan University "is a state-funded grant for residents of New Jersey that offers financial aid and academic support services to low-income, first-generation, academically promising New Jersey citizens with little to no prior academic preparation." The EOF program has changed the college experience and the lives of so many students at Rowan University; here are just a few of their stories.
Ezekiel Abrams is a first-year Accounting major from Egg Harbor Township, NJ (Atlantic County). Ezekiel is breaking down barriers as a first-generation college student here at Rowan University. Ezekiel shared he was drawn to Rowan because "Rowan has the students' best interest in mind, everyone here was more than happy to help."
He went on to add "during the college search things can be robotic, but Rowan was welcoming, at Rowan I'm not another number, I'm a part of a community." When asked about why he was drawn to the university's EOF program, Ezekiel gushed, "The EOF program amplifies those values that Rowan exhibits and you have more people to advocate and assist you, they understand and want you to succeed."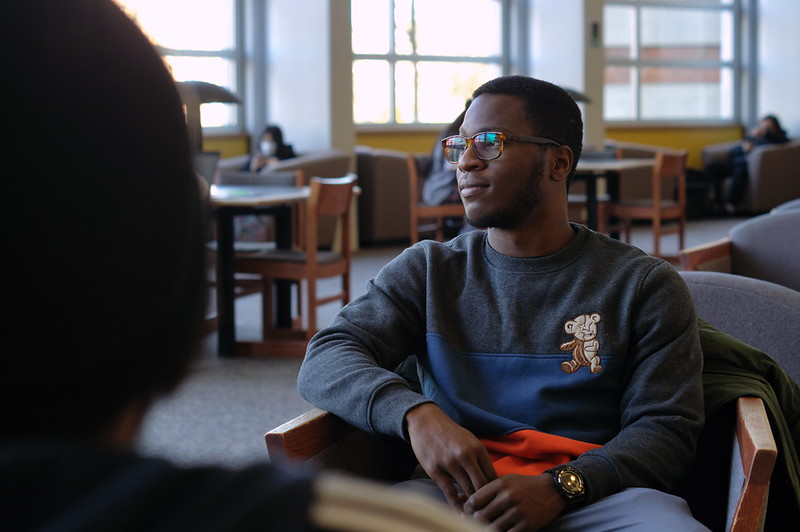 The EOF program equips students with many different opportunities and resources, and Ezekiel attested to this, expressing how the six-week Pre College Institute program EOF offers to first-year students is "profound" and allowed him and his peers the ability to network and learn the ins and outs of the Glassboro campus. When asked what he believed his college experience would've been like without the EOF, he shared he believed it would be similar, but the transition would've taken him much longer without the support of the EOF program since being a part of the program allowed him to "hit the ground running" once the fall semester began.
Ezekiel is involved on campus through his employment at the Student Life office. He's also a building operations assistant, volunteers with student university programs (SUP), and is involved with the Student Government Association's financial department which helps organizations budget and more funding if needed. Outside of his campus activities, Ezekiel enjoys hanging out with friends, reading books, and painting too. When asked to describe Rowan in a short sentence, he replied, "a pretty good place to be."
---
Next up, we have Brianna Reagan, a third-year Journalism major with a minor in Africana Studies from Camden, NJ (Camden County). Brianna chose Rowan University because of the family-oriented feel of the university's Radio/Television/Film program; however, when it comes to Rowan's EOF program Brianna expresses she didn't choose the EOF program, "It chose her."
For students like Brianna, the EOF program has opened many doors for new possibilities and experiences, and for Brianna, EOF gifted her with the ability to attend higher education, as the program aids with students getting extra funding and scholarships to help them achieve their degrees. The program also helped Brianna find some of her first friends on the Rowan campus, which can be a major hurdle for many students starting out during the anxious beginning that the first year can be, but with the help of EOF Brianna has been able to grasp as much treasure out of her college experience as possible.
When asked what she thinks her experience at Rowan would be like without the EOF program Brianna confided she believes she would have been "a little bit more behind than others because EOF sets you up for success." She went on to add that "college is hard to navigate," but the EOF program helped push her through her first year at Rowan which was sadly deemed the "Covid-19 year" due to the heightened restrictions due to the ongoing coronavirus pandemic that struck the nation.
Brianna is involved with many different organizations and clubs on campus, she's a part of the campus NAACP chapter, a Black Student Union liaison, Student Government Association public relations representative, a part of the magic that is Rowan Radio, and also has aspirations to host on a radio show soon in the spring. She even managed to find time with everything on her plate to compete in the Miss Black & Gold Pageant. During her time away from classes and campus activities Brianna likes to spend her downtime skating, hanging with friends, and paving even more paths of success for herself.
When asked to describe the EOF program in one word Brianna used "resourceful," elaborating to say, "they create a family-based program, a home away from home." Brianna wants everyone to know she's happy to be a part of the EOF program, and to her "it's a blessing."
---
Last but certainly not least we have Sabrina Vargas, who is a senior student here at Rowan University majoring in Dance and minoring in Philosophy. Sabrina is making her mark as a first-generation college student from Mays Landing, NJ (Atlantic County). Sabrina shared she felt magnetized to Rowan and what the school had to offer because of its "home away from home" vibe, which allows her to get away but always head home when that homesick feeling creeps in. She went on to add that the EOF program gives off that same "home away from home" vibe that Rowan exudes so effortlessly. When asked about the doors EOF has opened for her Sabrina shared that the program has granted her so much, some of the resources being scholarships and mental health resources. She gave a humble ode to the program stating she believes "I wouldn't be graduating without them."
Sabrina is involved on campus through performances at different club events, supporting the Rowan NAACP, being a proud Alpha Kappa Alpha sister, and helping out the EOF program this past summer with their Pre-College Institute program, which welcomed PCI 2022 to the Glassboro campus. During her free time, Sabrina finds joy in her dancing, mindfulness practices, and spending time with friends. When asked to bring the EOF program to life with one simple word Sabrina chose "elevated", elaborating that the program elevates their students has helped her grow so much as an individual over her time here at Rowan, going on to reveal EOF helped her discover grad school which she has plans to attend, she gushed that she "never thought this would be happening."
Sabrina wants everyone to know all the beauty that lies within the EOF program. She shared that her freshman 2019 PCI transformed her into who she needed to be for university and after working it for the class of 2026 her heart has been warmed in unexplainable ways. During her experience with PCI 2022, Sabrina was given the opportunity to work as an Elements of Dance student instructor, which she found so rewarding with dance being one of her passions. She made a note to add that PCI 2022/class of 2026 "has her heart" and she knows they have "four years of greatness" ahead of them. Lastly, her heart also went out to her counselor Michael Whiting who she says "has been there for her through thick and thin" throughout her journey.
The EOF program gives so much to its students and allows them to have a college experience some could've only dreamed of. With scholarship programs, volunteer opportunities, field trips, and constant opportunities to network, EOF is paving the way for some of the best, brightest, and most ambitious students here at Rowan University.
As a program that gives so much back to students, with a heart full of so much gratitude give the EOF program here at Rowan University the recognition that so deeply deserves, through the eyes of three budding EOF students, and written by a fourth.
Like what you see?
Story by:
Asiya Robinson, junior writing arts major

Select photos by:
Joseph Conte, junior community and environmental planning major
Stephanie Batista, senior business management major