Today we feature graduate student Sarah Salazar from Galloway, NJ (Atlantic County), who earned her Rowan bachelor's in chemical engineering and is continuing her time with a master's in chemical engineering. She shares her advice for incoming engineering students. Learn more about Sarah's research.
How did you discover that engineering was right for you?
So in high school I really didn't know what I wanted to do. I knew that I loved all my science classes, loved my math classes, and both were things that I was actually really good at. So I kind of just took that and did some quick research and saw chemical engineering and I said to myself, "Okay, I'm gonna roll with this and see what comes out of this. If I don't like it, it's not the end of the world, I could always switch out of my major.'" That's how I fell into this program. 
Choosing engineering was a rollercoaster of emotion – but not in a negative way. At first, it was very overwhelming. I couldn't help but think, 'why did I choose this major? Why do I want to study this much?' 
During orientation one of my major fears about being an engineer was that I wouldn't have any social life. I confidently said to myself that I'm choosing this major, but I'm freaking out too because I'm scared that I'm not going to have any friends or not going to have any time to go out and experience college life. 
This many years in, I can say I was completely wrong. I honestly knew that from even the first day that I got here. What really made the experience amazing is the people in our engineering community. 
When I finished my bachelor's here, I didn't have to choose Rowan for my graduate program. I had actually applied to a couple different places, but I really wanted to stay in a lab that I was familiar with and continue learning from the graduate students and from my advisors. Dr. Joe Stanzione advised me with a few options, but I ended up choosing here because that's where I felt most comfortable and I ultimately was excited to continue my education here.
Where did you live on campus?
I started off in the Engineering Learning Community (ELC) as a first-year student in Holly Pointe Commons. I lived in this pod section that was only engineers. This is where I had met a few of my best friends who I still hang out with today. It's nice because your program also starts off with first-year and sophomore engineering clinic. In those classes there would be so many familiar faces because we'd all see each other frequently in Holly Pointe.
By junior year I was in only engineering classes and I became really close with my graduating class. This tight knit group of about 50 or so people would always just be hanging out and studying together – because we were in this together. I would say that's what really got me through the entire education. We're putting in so many hours a week studying for exams and doing homework together. The camaraderie, being genuinely good friends, making each other laugh during tough times, made this program so worthwhile.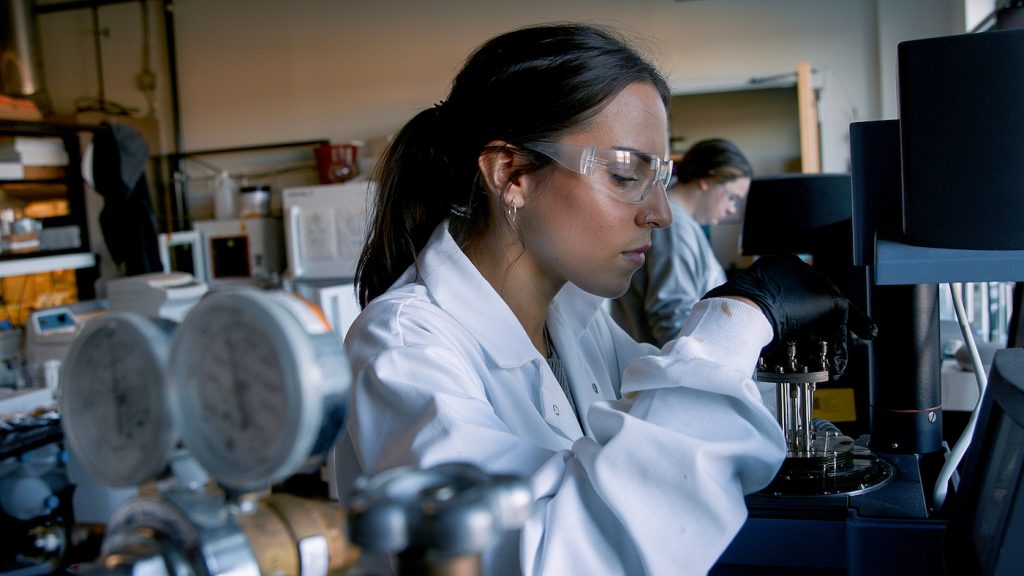 Are you involved in any clubs?
I was involved in Engineers Without Borders, which was my favorite club that serves local and international communities. I would go to all the meetings and ended up getting positions on the executive board. The cool thing about Engineers Without Borders is that it's a nonprofit club and because of that, any student from any discipline can join – not just engineers. There are a lot of mechanical engineers, civil engineers, chemical engineers, biomedical engineers, so it's helpful to have variety so each person can put their knowledge together to come up with simple solutions.
When I was involved, we had this one project for a Camden community garden that ran sustainably. There was a modified bike that pumped water throughout the garden if you rode it. So small things like that are rewarding because you are helping out these local communities, and it's something to put on your resume.
There are a lot of good opportunities. I even attended my first conference. The group went across the country to San Francisco to network with other students who, too, are in Engineering Without Borders. So I would definitely recommend the club for personal and professional development.
Any last advice?
The biggest piece of advice I have is to get involved and maintain a work-life balance. Before, I was really scared to go into engineering because I was nervous about not getting the college experience. But honestly, everybody's scared going into college. It's such a big change being on your own! Not having your parents there to cook and give you the support they have given you all your life is initially really intimidating. Find your space. For me, being in the engineering community really helped with that. Creating my own family and support system at Rowan got me through the hard times and ultimately gave me the best experience I could ask for. 
Like what you see?