Today we feature Camila Vardar, a Rowan Global Biomedical Engineering Ph.D. student originally from Puerto Rico. Camila is conducting her Ph.D. research project on contact lens implants for secondary cataract prevention. She completed her undergraduate at Yale University. Camila discusses the process of her research project, why she chose Rowan for her Ph.D., and her plans for a career in Biomedical Engineering.
What got you interested in biomedical engineering? 
When I was younger, I wanted to be a doctor because I grew up around many people who had a wide variety of medical conditions that they all struggled with. Later on in life, I realized studying medicine itself was not the field I wanted to be in. So I started learning more about the field of biomedical engineering and all the things you could do with prosthetics and drug delivery. By discovering that side of engineering, I got more interested in delving deeper into the field.
Is there a specific area of biomedical engineering that really drew you in and why? 
I'm interested in the field of drug delivery because drug delivery in the medical field is a way to treat different diseases and conditions in a way we couldn't have imagined before. Drug delivery changes how we get drugs to other parts of the body that are hard to reach, like tumors. So to me, drug delivery is such a big challenge that I would love to tackle.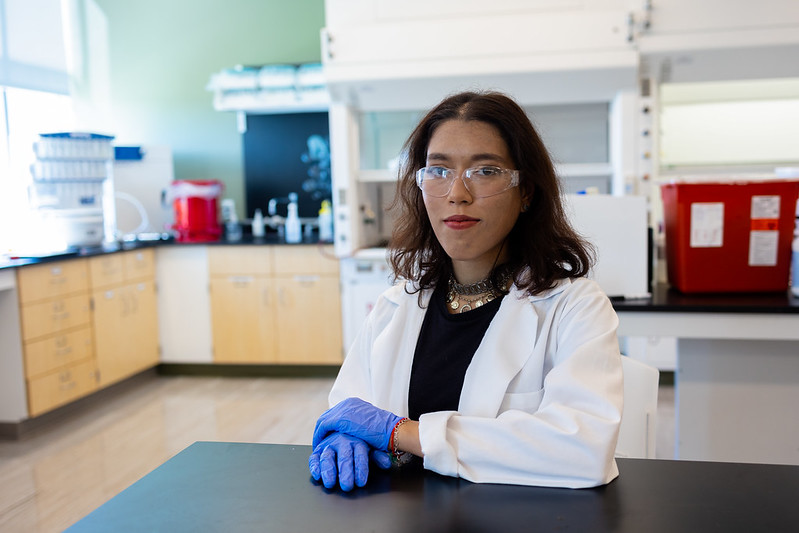 Can you talk a little bit about the research project you are completing with the contact lens implant and how that came about? 
I'm working with contact lens implants to be inserted after initial cataract surgery. Unfortunately, a condition develops after a lot of cataract surgery, commonly called secondary cataracts. With this condition, a lot of the progress in cataract surgery can be lost.
An individual with secondary cataracts would have to undergo another surgery for cataracts. This condition impacts one-third of cataract patients. This contact insert would be implanted into the patient after surgery to prevent secondary cataracts; it releases a drug that prevents cataracts from forming again, and it reduces the re-operation rate.
How does the contact lens implant work? 
The lens slowly releases medication into the eye that targets the cells responsible for creating cataracts in the human eyes. This medication also works to prevent the formation of secondary cataracts. This is a product that could make eyedrops obsolete. The medication can drip onto their face whenever a person puts eye drops in their eye. Furthermore, eye drops are pretty ineffective. About 80-90% of the medication that you put in your eye is filtered out of your sight.
These implants can be beneficial and are essential because if a patient with cataracts does not remember to put in their eye drop medications, the whole process is counterproductive to improving their eyes. If the patient doesn't remember, it's nice that they have the option of these implant lenses that will take care of all the work.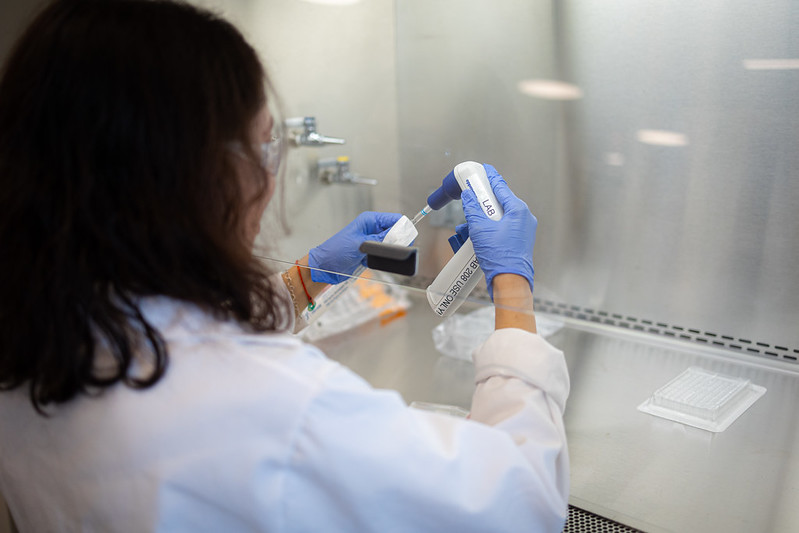 So when did this project start for you? When did you become a part of it?
I joined the project in the phases of testing different doses of drugs in the lens. Hopefully, soon we can start animal trials, which I'm excited about. After animal trials, we can then begin clinical trials and testing on people.
What's the timeline from where you're at now to possibly being able to have this product available to the public after testing?
First, we'd have to go through animal trials. If we started at the end of this year or next, those trials should be done in perhaps one or two years. Hopefully, by the time I finish my Ph.D., we could see a movement toward clinical trials. It isn't easy to give an exact timeline for these research projects.
With graduating your undergrad from Yale University, what attracted you to come to Rowan for your Ph.D.?
I thought the research that was going on in the biomedical engineering department at Rowan was exciting. I also did like that it was a newer and smaller department. I also enjoy the professor-to-student ratio and believe the faculty and professors are close with their students because of the class sizes.
Can you just elaborate more on being able to get this type of experience at Rowan and doing the research that you're doing? 
This lab at Rowan has been an excellent fit for me because this sort of research is not happening everywhere. In addition, it's nice that I can always connect with my advisor, Dr. Mark Byrne. In contrast, at another university, I might just be working under a postdoc or working in a big group and not get to talk to my advisor or build connections. I also think it is extraordinary to have his expertise and advice to help assist me in my work day-to-day.
Can you tell us more about your advisor and how he's able to help you advance and work on this project?
Dr. Mark Byrne, my advisor, is an ambitious person. He always pushes me to do more. From our first meeting, he said, "I expect my students to be able to multitask, be able to compartmentalize, and get all the work done." He then proceeded to tell me that It was going to be challenging. However, he expressed that he wouldn't have chosen me to be in his lab if he didn't believe I could do it. I think that encouraged me and continues to encourage me daily. He also brings a lot of expertise in the field of polymers, which is what I'm working on for contact lens implants.
How do you keep yourself motivated? 
Being in a Ph.D. every day in the lab isn't always gonna be the easiest or the best experience. In fact, most of your days are gonna be bad days; experiments can go wrong, failures are common and mistakes happen within a lot of different processes. I think it's always good to remember the end goal and why you're doing it. 
For me, I think a lot about my family. My family has had issues with cataracts and that is why completing this project in my Ph.D. has been so important and rewarding for me. Throughout this experience, I have learned that it's important to think about all those people, like my family, that I could be helping through my work. Once I finish this degree, I'm just thinking of how many people I could help when I fully go into industry.
Can you just elaborate on the impact that you want to have on others?
At the end of this project, I hope these lenses can be commercialized and reduce the incidence of secondary cataract surgery because it's a vast, under-explored field. It would be great to have a product out there finally and hopefully start creating more contact lenses for different applications in the eye. Hopefully, we can phase out eye drops in the future because they're not practical. However, I would like to continue this line of work once I graduate and stay within drug delivery.
How many more years do you have left? 
I have three to four years left. 
Is there a lot of collaboration working on this contact lens project or are you working on this project by yourself? 
There is collaboration. I'm mostly the one working in the lab for the project, but I also have a lot of people helping me with different aspects of the project process. For example, I have a professor at Philadelphia College of Osteopathic Medicine (PCOM), Mindy George-Weinstein, Ph.D., helping me figure out the animal trials process because I have never worked with animal trials before. My advisor, Dr. Byrne, is also helping me catch up to speed on the polymer side of the project.
What is the most important thing you would say is someone wanting to go into the biomedical engineering field?
Biomedical engineering's a little bit daunting because it's not like mechanical engineering, where you know what you're working on. Biomedical engineering incorporates many different fields, and sometimes it feels challenging. However, I think you have to break it down piece by piece. This field is fascinating because you can work within so many different realms of engineering, like chemistry, programming, or even electrical signals. As a result, there are many different career paths and areas of interest you can seek in this field.
See our video with Camila here:
Like what you see?
Story by:
Natalie DePersia, senior public relations major