September 1996: long before Abigail Cassino was even a thought in her parents' minds, the foundation was laid for her future legacy. Her parents, Theresa (Gouker) and Chris, met as first-year students at Rowan, part of the first engineering class. Theresa lived in Evergreen Hall; Chris in Mimosa Hall. They met, fell in love, studied alongside one another and graduated with degrees in chemical engineering (Theresa) and civil engineering (Chris). 
September 2023: Abigail stepped on campus as a first-year student majoring in mechanical engineering, embarking on her legacy as only the second Rowan University second-generation engineering student.
Neither she, nor her parents, knew of Abigail's unique distinction at that time.
Almost one year ago, Abigail and her parents first toured Rowan, visiting from their home in Maryland. Her parents were wowed by the changes, namely the presence of Rowan Boulevard and the second engineering building, Rowan Hall. Neither existed when they graduated in 2000.
Rowan University was the clear choice for Abigail. "When we toured the engineering building my parents saw several professors they still knew, and the professors still remembered them. They said 'see that's what you get here, professors who actually know you for you and who care about your success.'"
Though Abigail did not originally set out to major in engineering, having a mom who is your best friend – and also a Ph.D. chemical engineer – has a way of influencing you. "My mom is the one who started it all," Abigail says. "She is my greatest role model. She is the one who said to give it a shot and apply. And I really do like it."
Over Abigail's childhood, she witnessed her parents' careers grow and blossom from their Rowan roots. The family moved as Theresa and Chris pursued new opportunities. "It was hugely influential," says Abigail. "I saw them go through tough times, and good times, and how to roll with those changes."
Being a woman studying in a field heavily dominated by men, Abigail understands it can be challenging for women starting out in STEM. "Women bring something to the table. We have a lot to say," says Abigail. "Honestly, having more women in this environment makes it a little less intimidating. We really have to work to make our voices heard, which takes effort considering you're outnumbered." 
Abigail found that Rowan's commitment to diversity and inclusion was also evident outside of the classroom. "There are a lot of groups centered around underrepresented groups in STEM," she says. "I am in the Society of Women Engineers. It's a good opportunity to talk with other people in the field and learn from them." 
Abigail has found resources on campus that have helped her succeed. "My advisor in engineering has been amazing," she says. "As well as being in the engineering learning community [in Holly Pointe Commons.] The engineering department in general is really good with providing resources if you're having trouble with mental health or school. There is a really big support network here."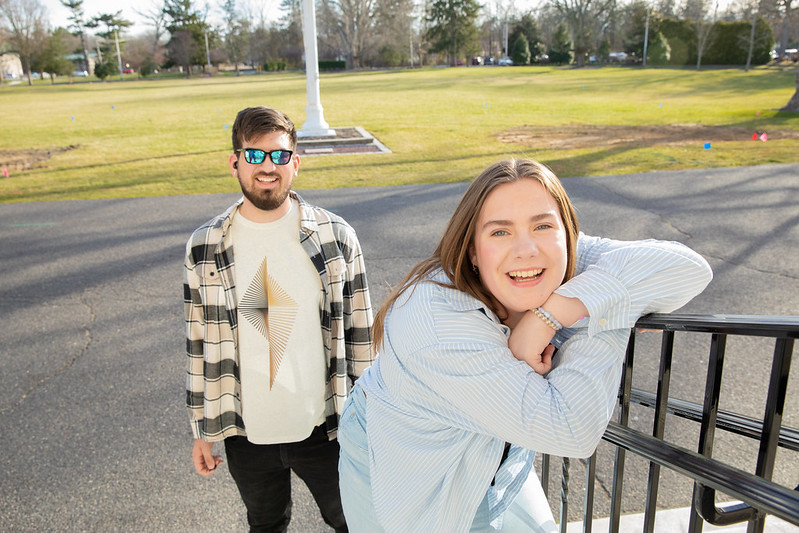 As she wraps up her first year, Abigail is eager about what's to come. This semester she joined her mother's sorority, Theta Phi Alpha, continuing her Rowan legacy in a non-academic fashion. "There's so much I am excited for," she says. "I would like to study abroad and I'm really looking forward to my new position as co-sponsorship coordinator with Rowan After Hours (RAH)."
Like what you see?
Story by: Sean Humphrey, senior public relations major
Adeline McDonald
Photos by: Valentina Giannattasio